What would a list of my favorite classic movies be without the addition of a dashing hero? Particularly when this hero is played by my favorite Hollywood leading man. This week, we're getting really old school with a nice period/literary film. So get your smelling salts ready, because if the sight Hollywood's original swashbuckler/daring adventurer doesn't make you swoon, then I've certainly got my work cut out for me.
I'm sure if I were to mention the name Robin Hood, the first thing that comes to mind is a rather handsome Fox with a feathered cap. Don't even try to tell me it's not. I'll admit when I was younger I had a massive crush on said fox (you know you did too), but now that I'm older I've transferred my love from the cartoon version of Robin Hood to Errol Flynn's handsome visage.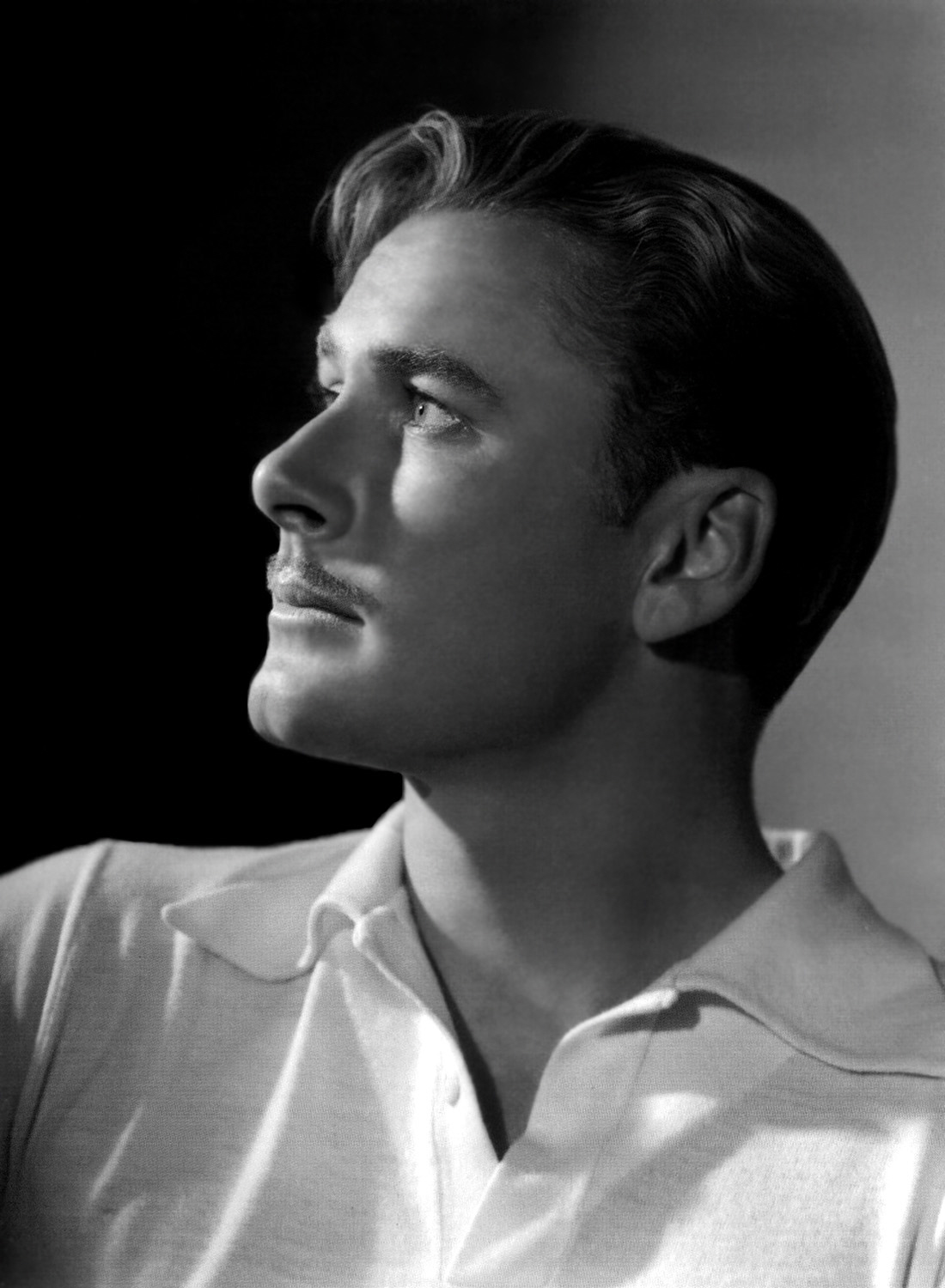 The Adventures
of Robin Hood
wasn't Errol's first film, but it has certainly become one of his most popular. He is often remembered for his pirate and adventure films. As a testament to the influence he had over the this genre, Johnny Depp has said the Australian was a huge influence in the way he portrayed Captain Jack Sparrow and Disney actually borrowed their most recent hero's name from him... Flynn Rider.
Robin Hood
was released in 1938, so that makes this film a true classic in every sense of the word. Olivia de Havilland (who was the female lead in many of Errol's movies) played the lovely Maid Marian. And when it comes to on-screen chemistry... *fans self* These two had it, perhaps that's why they were so often cast opposite each other. Or perhaps it has something to do with the rumored affair they carried on through the years. But that's a story for another day.
I won't go into the gritty plot details, because everyone knows the story of the outlaw who steals from the rich to give to the poor, and this classic movie version does a good job of sticking to the original. So what sets it apart from all the other Robin Hood movies out there and what gives it that extra oomph that is required to make it to the classic list?
First, there's Errol Flynn. As the title of this clip suggests, he IS Robin Hood. As an actor, he had the uncanny ability to transport you to another time and really make you believe that he's a Saxon thief, or a pirate, or a jilted Don Juan. And that's a magic all in itself, to have that sort of ability and charisma. He's also completely swoon-worthy. Not many men could pull off that hair, green tights, and a feathered cap and still manage to completely overwhelm your feminine sensibilities:
Before you accuse me of picking this movie solely as an ode to Errol (which, I'll admit is a huge part of its appeal), I'll move on... To the production. Just look at the costumes, the sets, the extras in the above clip. For a movie of the time, this was a massive undertaking. It was actually Warner's most expensive film to date at the time of it's release, coming in at just short of two million dollars. Whew! The studio also used all of the only 11 Technicolor cameras in existence to film Robin Hood, which was the height of technological advancement at the time. There were also more stuntmen used than in other other film of the time.
If you're an adventure film addict like I am, if Indy and Luke and Hans are at the top of your "men who can come rescue you from any situation" list, then you've just got to give
The Adventures of Robin Hood
its proper respect and spend an afternoon gasping over sword fights and close calls. You can never go wrong with an original, especially when Errol "the Baron" Flynn is involved: the father of the adventure movie. Don't forget to pretend that you're in Olivia de Havilland's place whenever she and Errol are in a scene together... I know I always do.
P.S.- How can you not love a film with quote worthy lines like this:
Lady Marian: Why, you speak treason!
Robin: Fluently!